We're delighted to announce our 2022 Main Partner Charity is local hospice care charity Phyllis Tuckwell. Phyllis Tuckwell provides supportive and end of life care for patients and families who are living with an advanced or terminal illness, such as cancer, across the whole of West Surrey and part of North East Hampshire.
Every day they support over 250 patients, carers and relatives – in their own homes, in the community, at the Hospice in Farnham and at the Beacon Centre in Guildford. Phyllis Tuckwell has three core services: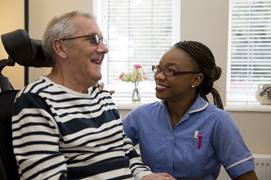 Living Well
In-Patient Unit
Hospice Care at Home
The NHS/Government only covers 20% of their costs, which means they rely heavily on the support and generosity of our local community. All of their services are given free of charge to patients and their families, but they need to raise over £25,000 a day to offer such an exceptional standard of care and support.
<strong>Little Lumpy</strong> is a long running charitable bike race that demonstrates the Haslemere Fringe Festival and Haslemere Festival's roots in our local community.
It is a 'not-for-profit' event, with monies raised being distributed between Haslemere Festival and an elected partner charity.  The <span style="line-height: 1.5;">2022 partner charity is the Haslewey Community Centre. </span> Little Lumpy offers you the chance to experience the charms and challenges of the proven designated routes.
Setting off again from Haslemere, we take you through the prettiest parts of the Sussex and Hampshire Weald to the South Downs at South Harting where the Challenge and Epic routes branch off to take you over some testing little climbs.
Why not find out more and sign up here: <a href="http://littlelumpy.co.uk/"> Little Lumpy. </a> As in previous years, you will be able to enjoy the warm welcome and home baked cakes at the feeding stations around the course. This added attraction is only possible with the dedicated group of volunteers whose efforts seem to have become legendary with the tempting selection probably the best to be found at any Cycling Sportive throughout the country.