Seann Walsh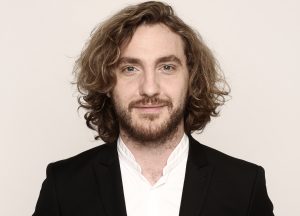 Brighton's Seann Walsh leads the Haslemere Fringe Comedy Stage with his brilliant observational style which has seen him play the Edinburgh Festival a number of times and appear on stage around the UK and on TV and Radio.
The Guardian newspaper called him; 'unquestionably, the best observational comic of his generation'. Surely, one of comedy's hottest properties…very talented, very funny.
Fiona Allen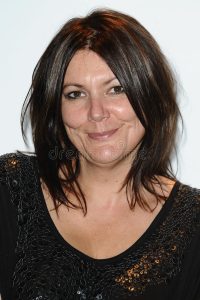 Fiona Allen has appeared in many sketch shows, including Smack the Pony (Channel 4), We know where you are (Channel 5), Goodness Gracious Me and the All Star Comedy show. She has also appeared in many television dramas including Dalziel and Pascoe and Coronation Street, as well as the sitcom Happiness alongside Paul Whitehouse. You can also often see her performing as herself on comedy shows like Mock the Week and 8 out of 10 cats.
Cally Beaton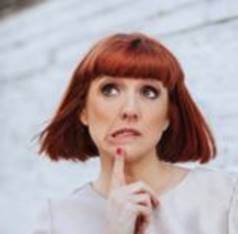 When acting as an unofficial business event warm-up for Joan Rivers, it was she (then 81) who told Cally she had what it took to be a stand-up; and so, as a 45 year old single parent, Cally first took to the stage. Since then she has since become one of the UK's most-booked professional comedians, with her unflinching, acerbic and intelligent brand of comedy, she has a hard-won skill set, few comedians can boast about.
Cally's TV and radio appearances, include being a regular panellist on BBC's QI as well as The Apprentice You're Fired, Radio 4's Museum of Curiosity, The Unbelievable Truth and Saturday Live.
Dinesh Nathan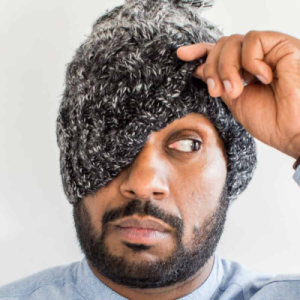 After a performing stint at the age of eight, as Willy Wonka in Charlie and the Chocolate Factory, Dinesh returned to the stage 20 years later to try his hand at stand-up comedy. After winning several gong shows, he won South Coast Comedian Of The Year and was a finalist at the Komedia New Act competition and the coveted Leicester Mercury Comedian Of The Year competition. Described as a "mix of high-spirited delivery with a sarcastic, self-deprecating viewpoint", his club-ready, bulletproof and relentless act was named "one to watch" by Brighton Fringe Review.
Jeff Innocent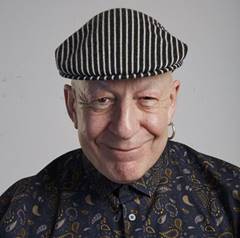 Jeff Innocent was crowned British Comedian Of The Year 2021, winning comedy's biggest prize of £10,001 in the process. Jeff has been one of the most respected acts in the UK for some time, headlining all the main clubs on the circuit and appealing to all demographics – a rare feat in comedy today. "Taking to the stage shaven-headed and in a tracksuit he describes as 'retired Cockney criminal leisurewear', he expertly owns and subverts the expectations that he appears to be an East London geezer with racist attitudes and shady associates. Taglines are relentlessly piled on to punchlines, each one skilfully plays with the stereotypes, alternately reinforcing and subverting them until a more complex reality emerges. It's a taut, gag-heavy set, delivered masterfully, which the audience adore." – Chortle Review (British Comedian Of The Year Final).
Richard Morton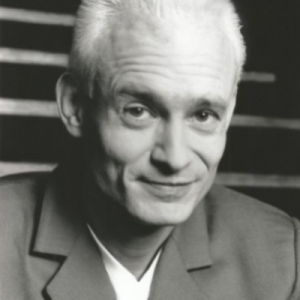 Described as "possibly Newcastle's finest export since the famous brown ale" and certainly more consistent than its football team, Richard Morton has nailed the twin talents of musicianship and comedy into one perfectly suited package.
With his comedy songs, Richard has built up a formidable reputation as a live act, and completed several major UK tours supporting the likes of Jack Dee, Lee Evans, Jo Brand, Eddie Izzard and Phill Jupitus, and is a founder member of The Comedy Store's Cutting Edge Show.
Andy Stedman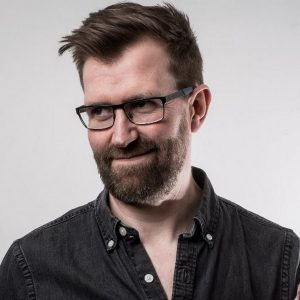 Our compare for the comedy evening is Andy Stedman, a singer-songwriter, comedian, writer and entrepreneur. His work has taken him around the UK, USA and parts of Europe, both on and off stage. On stage, Andy is one of the fastest rising stars of the UK comedy circuit, both as an act and a compere. He can be regularly found ripping (gently) into audiences at some of the top comedy clubs in the country, as well as hosting a variety of private and corporate events. He has written and performed in two hour-long Edinburgh Fringe shows.
Poetry and Poetry Slam – Sunday 3rd July
Matt Harvey
I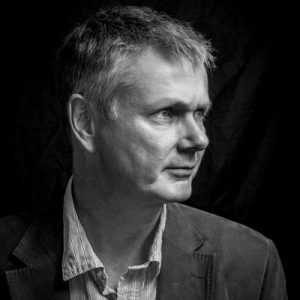 Poet, lyricist, and columnist Matt Harvey has been a familiar voice on BBC Radio 4 for two decades, performing all over the country and appearing frequently on TV. He co-wrote and co-starred in One Night Stanza and also served seven years as regular poet on Saturday Live, hosted two series of The Wondermentalist Cabaret and wrote and performed the adventures of superhero Empath Man.  He was first official Poet-in-Residence at the Wimbledon Championships ("brilliant" the New Yorker) and has been commissioned by – among others – the Science Museum, the Open University and the Energy Ombudsman. During lockdown his Hi Corona Virus poem went viral and Can You Hear Me? his collaboration with composer Thomas Hewitt Jones, reached no. 1 in the Classical Charts. Most recently Praise the Whale was a big hit at COP26, inspiring world leaders to reassess their core values – or so he claims.
Justin Coe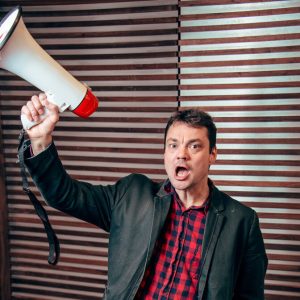 Justin Coe is a poet, writer and spoken word theatre creator specialising in work for young audiences. He is the author of The Dictionary of Dads (Otter-Barry, 2017), The Magic of Mums (Otter-Barry, 2020) . He has written and toured over ten spoken word shows for families, most recently The House That Jackson Built, Young Herbert's Horrors and Big Wow Small Wonder, all produced by Half Moon Theatre.
Justin has been working as a creative writing workshop facilitator for over twenty years, bringing his unique mix of puckish poetics and heart-felt humour to thousands of schools, theatres and libraries, not to mention steam trains,  street corners and a sitting room made entirely out of newspaper.
Steve Tasanne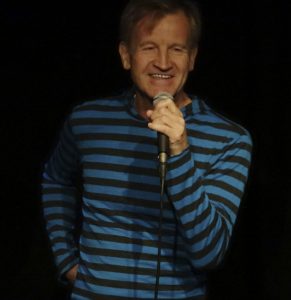 Multiple slam-winning rock'n'roll poet, Steve has performed at the 100 Club, The Barbican, and Glastonbury & Latitude Festivals, as well as Battersea Dogs Home and St Paul's Cathedral. His words dance across the room – if you're a goodie – or spit like bullets – if you're a baddie.
Or you can just sit back and enjoy the rhythm and rhyme and the wit and wisdom.""Multiple slam-winning rock'n'roll poet, Steve has performed at the 100 Club, The Barbican, and Glastonbury & Latitude Festivals, as well as Battersea Dogs Home and St Paul's Cathedral. His words dance across the room – if you're a goodie – or spit like bullets – if you're a baddie.
Or you can just sit back and enjoy the rhythm and rhyme and the wit and wisdom.
Geoff Allnutt - The Speech Painter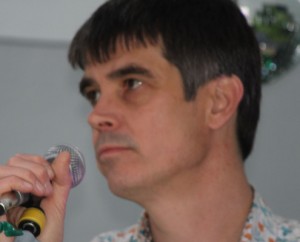 Our compare and regular poetry slam organiser, Geoff Allnutt, aka The Speech Painter, has been a performance poet since 1988. He has performed all over the UK from poetry clubs to music and literature festivals and is the winner of numerous poetry slams (including Glastonbury Festival).
His verse play, Walt Disney, Man or Mouse?, premiered at Apples & Snakes in 1994.
Between 1995 and 1998 he was a founder-member of poetry's first pop group, Atomic Lip, together with Patience Agbabi, Steve Tasane, Pink Sly and Joelle Taylor.
He staged his first one man show, Beating Time, in 2000 and, in 2003, he was co-host and co-programmer for Pure Poetry at Soho Theatre, a weekly poetry cabaret show placing page poets and performance poets together on the same stage.
His film poem, This Time Next Year, was commissioned for Channel 4 in 2004 and he is also a regular support
act for chanson singer Philip Jeays 1990 to present.
2019, An Adult Dr Seuss sells out its run at Brighton Fringe, which with the covid gap brings us right up to today.  Back at the Haslemere Fringe with a slam to remember.
See who sponsored us in 2022