Children's Entertainment and Site Entertainment
Children's Entertainment has been an integral part of the Haslemere Fringe ever since we started.  As one of the most family friendly festival's around, we want to make sure we cater to everyone and this year is no exception.  Check out our fabulous workshops for kids of all ages (including their parents!)
If I Ran the Country with Rich Knight - Saturday 2nd and Sunday 3rd July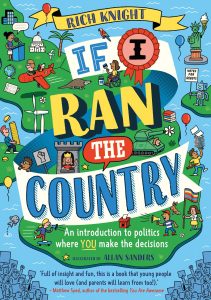 Recommended for children aged 9-12
Congratulations! You've just become leader of your own country! There are a lot of decisions to be made, and not long to make them. But don't panic. Award-winning BBC journalist and If I Ran the Country author Rich Knight is here to help with this funny, fact-packed and interactive session on how to build a nation and be a good leader. You'll discover how things work (and whether you can make them work better). If I Ran the Country is a witty guide to taking charge and getting things done.
Full of insight and fun, this is a book that young people will love (and parents will learn from too!). — Matthew Syed
A lovely, clever and fun way to help kids understand government by making them think what they would do if they ran a country. Hopefully it will engage and encourage some cracking leaders for the next generation! — Miranda Hart
This superb book will inspire children to question and understand more about the world in which they live. ? Book Trust
Rich Knight is an award-winning journalist, documentary-maker and BBC Radio 4's commissioning editor with responsibility for current affairs, politics, history and lots more. He wrote If I Ran the Country as a side project during lockdown, a time when children everywhere came to understand how political decisions made far away can affect their lives. If I Ran the Country is a gag-packed introduction to politics that casts the reader as leader of a brand new nation.
Professor Dill - Punch and Judy - Saturday 2nd and Sunday 3rd July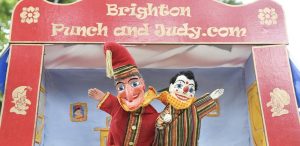 Professor Dill – Once again, we welcome Professor Dill's  Punch and Judy. A spectacular British Comedy for all the family.
Professor Dills Punch and Judy puppet theatre is a delight to behold. Beautifully built to traditional Victorian specifications and covered in the original red and white striped canvas. In Professor Dill's modern Punch and Judy show, all the famous characters are featured: Punch and Judy, the baby, Joey the Clown, Toby the dog, the crocodile and many more. The shows will take place throughout Saturday and Sunday afternoons.
Molly Moocow - Saturday 2nd and Sunday 3rd July

Molly Moocow will again be attending the Haslemere Fringe entertaining children with lots of games, songs and activities. She will wow the crowd with puppets, props, balls, balloons and colourful parachutes. Everything your little one could want from a fun-packed afternoon on Lion Green.
Funfair

The traditional Fringe Funfair will again have a presence on Lion Green, providing fun and excitement for children and adults of all ages. From rides for small children, giant slides and of course our famous Big Wheel, from where you will have a spectacular view of the whole site.

Big Noise Community Samba Band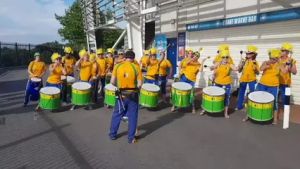 Making a return visit to the Fringe, we have the Big Noise Community Samba Band, which is made up of about 40 musicians, ranging in age from the young to the young at heart! Some have previous musical experience, some don't, but they all share a love for the samba-reggae sounds that they make together. They will be performing throughout the afternoon on both Saturday and Sunday and in addition you will be invited to take part in some of the sessions.

See who sponsored us in 2022